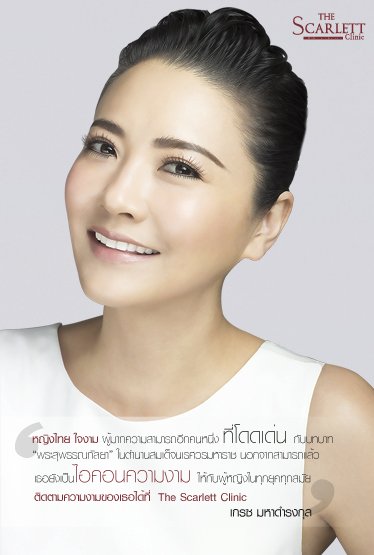 Grace Mahadamrongkul
Hi-so Celebrity

"A nice Thai lady full of talents, she is outstanding almost the thing; in society and entertainment industry. As the characteristics; Emcee, Super model, brand ambassador and lately a performance from the huge production movie "Legend of King Naraesuan" performed as "Phra Supankallaya". She is many women's idol as a working-smart woman who has high ability of working. She is one of the Board Director in Marketing and Product Developing, Cosmo Group Co., Ltd. Guaranteed qualification by many awards; "Society Support Awards" from Priew magazine, "Most Eligible Bachelor" from Tattlier magazine, "Fun and Fearless Women" from Cosmopolitan. She is also a beauty iconic for other women as well.
Follow up her beauty secret at The Scarlett Clinic, soon!