Live Blood Analysis is diagnosed while blood is live looking through Transformation Dark Field Microscope can immediately look into changing of blood for checking quality and completeness of red blood cells, white blood cells and checking residue compound in blood. It helps finding out any abnormality that may cause illness in the future. In addition to the various effects caused by malnutrition in early stage or a group of immune system to infection indicate the potential for diseases and degenerative conditions of body such as coronary artery disease, cancer for treatment plan later.
Blood Vessel Analysis is diagnosed internal blood vessel for checking blood circulation and age of blood vessel in addition to resistance inside blood vessel, flexibility of heart beating rate. Procedure is monitoring by infrared radiation (IR) through the finger and then measure the absorption of infrared light by OxyHemoglobin. The machine detects a pulse signal can sensor data analysis.
Analysis of the pulse variation

Analysis of pulse wave indicating vessel condition

Analysis stress level

Analysis balance of nervous system
Patient will receive proper instructions from the expert in addition to how to take care of yourself and adjust lifestyle properly such as exercising, nutrition, supplementation for better life quality.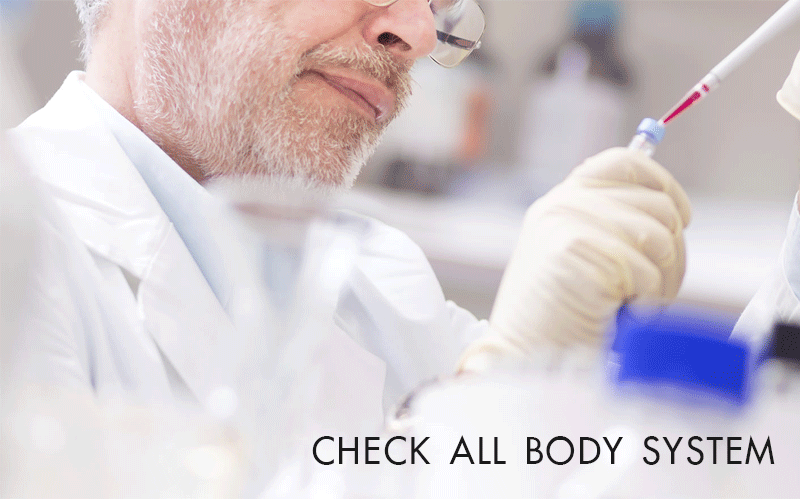 Check all body system is radiation very low electric energy into body, not pain or dangerous at all. This is to measure the water resistance between cell in any organs. This method can evaluate the degenerated cells or pathological indication of all internal organs;
Cardiovascular functions

Endocrine functions

Urogenital and Renal functions

Neuromuscular functions

Respiratory functions

Digestive functions

Neurologic functions

General Metabolic functions

Immune functions (Allergy risk, infectious risk and ENT risk)